What the Bible Says About Intimacy in Marriage
Although intimacy in marriage should be a consecrated conversation between a husband and wife, sometimes couples aren't sure how to address it. One way is to understand what the Bible says about it. Scripture always offers explanations, even for some of the toughest subjects.
If you're looking for understanding and starting points for addressing this subject, keep reading for three practical ways you can take action to cultivate the gift of intimacy in your marriage.
Intimacy in Marriage
At first glance, most people instantly think sexual gratification when seeing (or hearing) the word intimacy. Properly defined, intimacy takes on several meanings:
Close familiarity

Friendship

Closeness

Intimate act (intercourse)
With these descriptions in mind, let's look at what the Bible says about intimacy in marriage and how you can experience this beautiful level of love in your marriage.
Intimacy in Friendship
Cultivating friendship with your spouse is a great place to start when wanting to enhance intimacy in marriage. Thriving marriages are based on trust, communication, and comfortability to share even the deepest secrets.
Jesus shows us a prime example of what this looks like in John 15:15:
"I no longer call you servants, because a servant does not know his master's business. Instead, I have called you friends, for everything that I learned from my Father I have made known to you."
What can be gleaned from Jesus Himself is the practice of communicating with your spouse – sharing thoughts, concerns, fears, and the like. This is also an area that will take intentional work and attention. The throws of life can often get in the way, leaving the constant development of friendship to be placed on the back burner.
A few ideas for cultivating friendship in your marriage are:
Set aside time to talk (and listen).

Cut out distractions and time fillers (games, TV, etc.).

Pray with one another.
Today's fast-paced living doesn't allot much time for couples to foster the simplicities of friendship in marriage; however, it is important to do it anyways. Yes, as a couple has more children and more life-changing things happen, it can seem hard.
This is where you establish what is important, putting everything into its proper place, and keep your marriage a priority.
Intimacy in the Spirit
It may be difficult to think of intimacy in terms of it being something spiritual, but it is definitely a way to build intimacy in your marriage. Genesis builds an incredible foundation when trying to understand the spiritual side of man (and woman).
The fact that God gave man a spirit to commune with Him is the highest function of humanity. Without the spirit-man being cultivated, we simply become a people whose desire is for food, security, sex, and power.
When the spirit-man is properly filled, we then experience balance and true relationship with both God and others. When considering how this applies to intimacy in marriage, having that oneness with one another is marriage enriching.
How does a couple experience intimacy in the spirit? You can start by seeking God together (Proverbs 8:17). You can also commune and worship with other couples who understand and exhibit a godly marriage (Proverbs 27:17). Last but not least, you can consider serving God (and others) together (1 Corinthians 15:58).
These few acts alone will naturally draw you closer to your spouse and enhance the intimacy in your marriage.
Intimacy in the Physical
The third practical way you can take action to cultivate the gift of intimacy in your marriage is through sex. When asking others who have been married many years, they usually say that this is the one area that Satan attacks the most. Why? Most likely because it is such a sacred and powerful means of increasing intimacy for a married couple.
Biblically speaking, sex in marriage goes far deeper than the act itself. It is a mirror image of many things:
Even with all of these types and shadows, this part of intimacy can be difficult for married couples to discuss (and explore).
Some practical ways to break the barriers are:
Try to talk about it openly.

Set dates for it.

Experiment with flirting with one another.

Be creative.
Sex is a form of intimacy that should be celebrated, honored, and coveted. This area, and all others, must be guarded and properly cultivated in order to see its fruit-bearing goodness.
Overall, intimacy is a very important part for a husband and wife to have a thriving marriage. It goes beyond the physical and involves friendship, communication, and spirituality. As you embark on cultivating this special part of being married to your spouse, always remember how important it is to keep it in alignment with God's Word.
Do you have trouble with intimacy in your marriage? If so, we highly recommend checking out this amazing resource: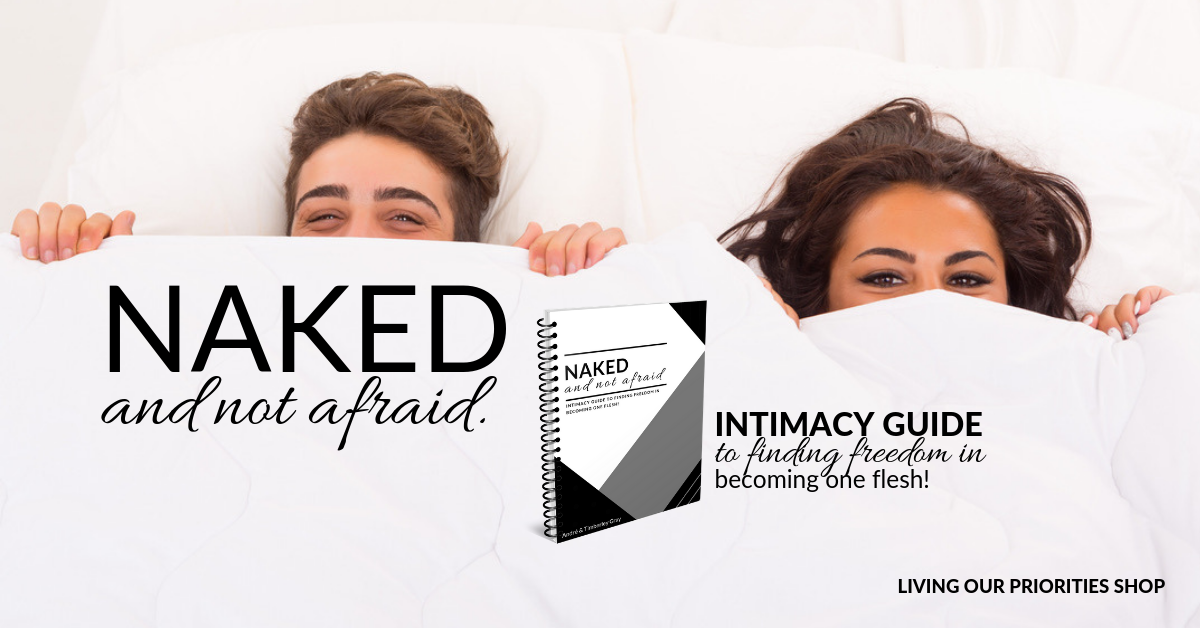 What are some ways you cultivate intimacy in your marriage? Let us know in the comments below!