Life can be crazy. As a work-from-home, homeschooling mom of 4 little boys, I can truly understand this. As the kids begin to get a little older, it seems like the busyness just keeps increasing.
Basketball practice.
Piano lessons.
Art classes.
Homeschool group.
Friend's birthday parties.
Play dates.
Need I go on? You get the picture.
When is there time for my husband—my most important worldly relationship? It's essential that my kids see our relationship is a priority to us, that we love and enjoy each other.
5 Easy Ways to Connect with Your Spouse
It can be tricky to figure out where to fit this in, but it's not impossible. All we need is a little reminder about how EASY it really is to show our spouses that they're a priority. I'm here to offer you that reminder with some practical suggestions!
1. Surprise them with a note.
Somtimes it's nice to know that our spouse is thinking of us, even when they aren't with us. An easy way to do that is to send them a text message or email, or leave a short note scrawled on a sticky paper they'll find on their steering wheel. It doesn't have to be anything elaborate. Just a short note from the heart.
2. Get them something small to let them know you're thinking of them.
It always makes me smile when my husband walks in with flowers or comes in carrying my favorite green tea from the local coffee shop. These aren't things that I would take the time or money to run out and grab for myself, so it means a lot when he goes out of his way to buy these little things for me. It means a lot to know he knows me!
So, what is it your spouse likes? What is something they wouldn't buy for themselves (at least not regularly)?
3. Plan to steal brief moments together.
When you have kids, I know how crazy things can be. That is why you must "plan" to steal moments together. As much of a blessing and joy as kids are, life simply isn't as care-free with all of the activities of parenthood.
Do all of your kids have soccer practice on the same evening? Maybe a mid-week church program they go to? Are you both up early in the morning for 15 minutes before the kids wake up? Maybe you can use the electronic babysitter (ie. TV) for a 30-minute show?
Whatever it might be, no matter how brief—10 minutes, 15 minutes, 30 minutes, an hour—plan to spend these brief moments focusing on each other. Talk. Touch. Share. Has it been so long since you've really talked with your spouse that you're not feeling connected? Use a couple of these 50 questions for some good heart-to-heart time.
4. Brighten their day with words.
If you find you can't even find 15 minutes together that you can schedule, you can at least find 1 or 2 minutes to pull them aside, tell them you love them, and tell them one or two things you appreciate about them. It's not hard, but it takes thoughtfulness. They will appreciate hearing these words from you.
5. Connect with your hands.
Think about when you were dating. You probably held hands a lot, put your hands around each other's waists, touched each other's faces, and ran your fingers through each other's hair. The power of physical touch to connect you to your spouse is powerful.
When life gets busy, it's easy to go days without connecting physically. (PS: It's also important to spend plenty of time connecting physically even when you're not in the bedroom.) Check yourself. Do some of those things you looked forward to with anticipation when you were dating, like putting your arm around your spouse. Don't forget massage—it can be a great way to connect and make your spouse feel loved and pampered.
I challenge you to make it a priority to connect with your spouse each day this week using these techniques. You don't have to use all of them in one day. Be intentional to nurture your relationship.
How do you show your spouse they're a priority in your life? How can you improve?
Read more from the series here…
---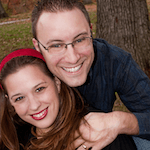 Trisha blogs with her sweet husband Luke at Intoxicated on Life, where they focus on their families pursuit of a holistically healthy home. Join them over at Intoxicated on Life where you can access their growing library of family and homeschool freebies, including a free Write Through the Bible workbook for your children!