So You Married a Dreamer [3 Ways to Share His Dreams]
Let's face it, you married a man; therefore, you married a dreamer. You also married a man with natural instincts put there by God to provide and care for you, his wife. An instinct to provide combined with his desire to make a difference in this world, mixed with a call to serve God = dreamer.
Whether your husband wakes up each morning excited about what he does or not, he is still a dreamer. But you know what is even more important to him than his dreams? It is you, his wife, believing in his dreams. It's you listening, encouraging, and praying for your husband's dreams.
His dreams might be happening now, or they might be happening somewhere down the road, or they may even end up fizzling out. No matter the distance, he wants you to be his biggest fan.
Dreams can be exhilarating and at the same time downright scary! So what is our part? What can we do for our husbands as they seek their dreams?
Don't Panic
So your hubby comes home one day and shares that he has a new dream. Perhaps it is changing jobs or following God to another state/country. Either way, don't panic!
For us wives, whom God wired differently, it is easy to see their sharing of dreams as — THIS IS HAPPENING. Ahhhh! It's so easy to want to head for the hills and point out every reason this particular dream simply will not work.
Slow down and remember that your husband just wants to share his goals and dreams with you. Some of them may work out and others will not. So stop, focus on him, and listen to what is on his heart. It is the first step in sharing his dreams.
Ask Yourself, "What Can I Do?"
Once a dream is moving forward and God is leading your husband, ask, "God what do you want from me as his wife in this dream? What can I do to help and bless him in this journey?"
Recently my husband felt God leading him to a new career and a new job. At first it was all a little unsettling because it meant moving multiple times and doing life very differently than we had in the past. There were months when we did not know where we would be and only trusted that God was calling us to something different.
My being supportive and helping in any way I could was important to me and to my hubby. He often thanked me for believing in him and what God was now calling him (us) to do. I knew God had us covered!
That was easy, but seeing the ups and downs of the process and how they affected my hubby was hard. So through the ups and downs of your husband's dreams, what can you do to love, respect, and support him?
Married a Dreamer
Be His Cheerleader
Am I suggesting that you put on a tiny skirt and get some pom-poms? No, I'm not, but if he would enjoy that, then go for it! The respect you show your hubby and the way you listen to his dreams is important.
You are the second most important influence on your hubby's life and dreams, second only to God's prompting. He wants to know that you are beside him, cheering him on, loving him in the high mountaintop moments and loving him in the deep dark valley moments.
In life, when following dreams, there will be both mountains and valleys. When a husband leads his family the way God is asking, the enemy is sure to follow trying to trip things up. Be your hubby's biggest fan and cheer him on.
Your hubby's dreams are a good thing! Will all of them happen? No, but you being there to believe in him will be amazing. Not only believe in him, but believe in and want his dreams as much as he does. It is an incredible way to bless your marriage, to love your husband, and to serve him.
No More Dreams?
Maybe your husband used to be a dreamer, but those ideas are long gone, or at least he's not telling you if they are still floating around in his head. How about spending some time initiating with your husband to reconnect and let him know that you want to hear what he is dreaming about?
I can think of times in our marriage when I did this well and other times when I did not. How have you seen evidence of sharing your husband's dreams and the blessings it brings?
---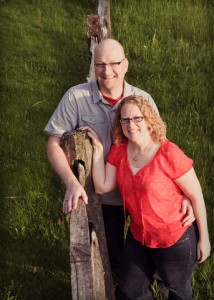 Kate with her amazing hubby, Brad write and speak on all things marriage. In 2009 they followed God's prompting and founded One Flesh Marriage Ministries, based on their marriage journey and God's word in Ephesians 5. Brad is the Director of Small Groups and re|engage marriage ministry at their home church, The Worship Center. Kate is a homeschooling mom and a natural light portrait photographer. God has given Brad and Kate three amazing blessings, two biological and one adopted who have enriched their life and marriage. They live in Lancaster County, Pennsylvania where the Amish buggies roam. You can find their blog at onefleshmarriage.com.
More to Consider…